# MuteDeck Software & General
# How does MuteDeck work?
The MuteDeck software checks your computer to see if Zoom or Webex is running. If it's running, it scans the user interface to see what buttons are present. I.e., it looks for the Mute button and if it's there, it means you're unmuted. If the Unmute button is there, it means you're on mute.
When MuteDeck detects an active call, it mirrors the buttons with the active status of that feature. When you press unmute on Zoom or Webex, it detects this and changes the button inside MuteDeck. When you press mute on MuteDeck, it sends a simulated click to Zoom or Webex and detects whether the mute was successful.
# Microphone Control as a Fallback
If a Zoom or other call is not found, MuteDeck falls back on the microphone you're using. This means you still have mute control with any conference call software, which is pretty awesome!
If you're curious about how that looks, here's an example from Microsoft Teams, from before MuteDeck had Teams support: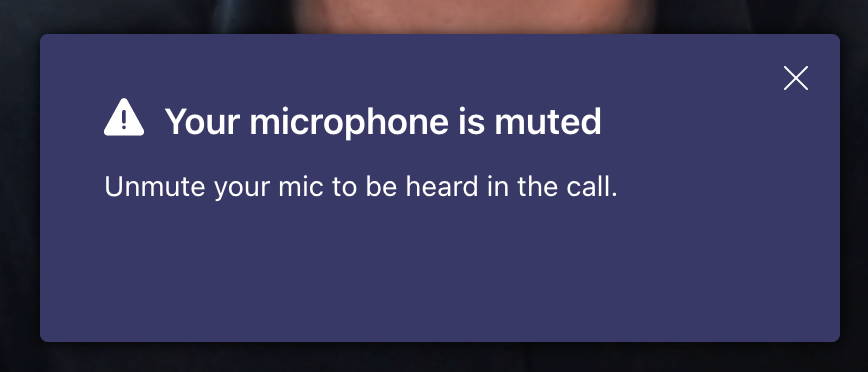 # What happens when MuteDeck doesn't recognise the call app?
When MuteDeck does not recognize the call application, mostly because we don't support it yet, it falls back on the microphone input you're using. Mute visibility and control still works.
Here's an example: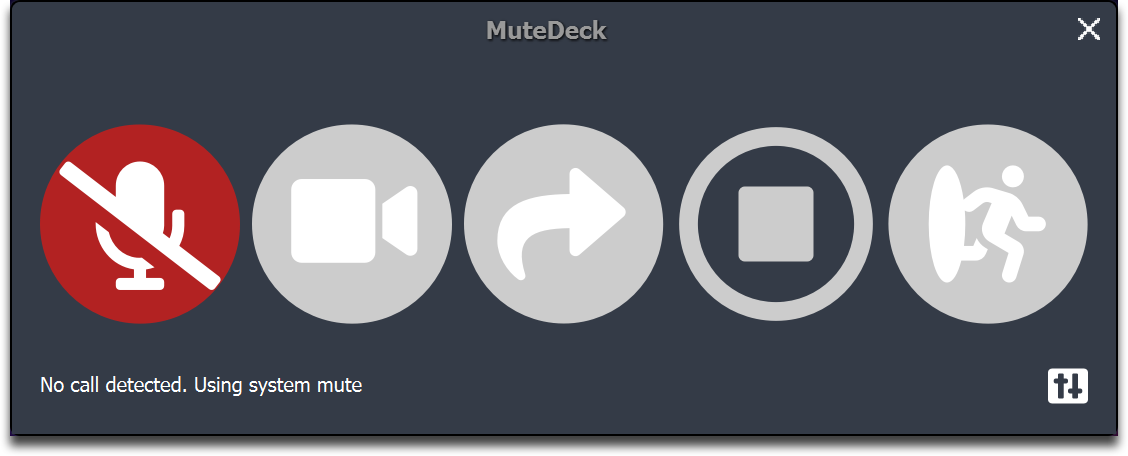 When using the mute button in an app that we don't yet support, you will still go on mute. Most apps can recognise that and will display a message. Here's an example with Microsoft Teams, where the microphone is muted: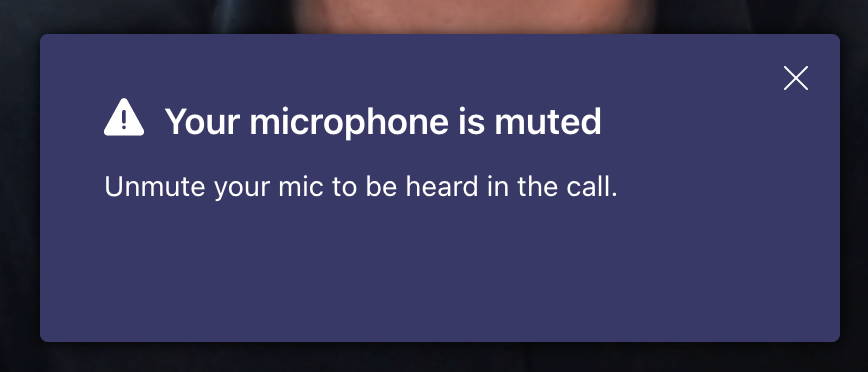 # Set up Microsoft Teams
Connect MuteDeck directly to the Microsoft Teams Third-Party API for faster updates and control. Here's how you set up Teams to let MuteDeck control it:
Open the MuteDeck settings, turn on Enable Microsoft Teams under Application Sync and click the Set up Microsoft Teams button
Open Teams for desktop
Open Settings:

Click the three dots:
in the top right of Teams, then select Settings

In the new window, click the Privacy menu item on the left
Select Manage API under the Third-party app API section on the bottom
Turn on the toggle next to Enable API
If the API token is empty, select Generate to generate a new one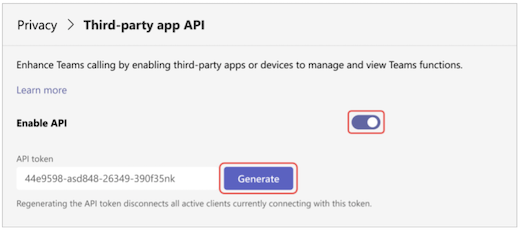 Once you've enabled it, MuteDeck will automatically discover the token and test the connection. Go back to MuteDeck to see the result.
Source: support.microsoft.com (opens new window)
TIP
Note: This applies to MuteDeck v1.5 and above. MuteDeck will still work for Teams without this integration.
Also, make sure you're on the latest version of Teams. The API feature is new and Microsoft is rolling it out gradually.
# Anonymous Usage Stats Explained
During the continuous development of MuteDeck, we often review existing features and design for new features and options. By enabling the Send Anonymous Usage Stats option, you can help us understand how MuteDeck is used and lets us know which features matter most to you.
Disabled by default, MuteDeck will ask whether it can enable the collection of usage stats and send it to us when it first starts.
No data is collected or reported that can connect your identity to it. To be as transparent about what we collect, here's what is collected and sent to mutedeck.com:
# System
Computer ID: Random generated string when your computer is installed. Here's an example: 8B510C4A-BB24-5450-B1B0-BECC5F092DE6
CPU Architecture: Whether MuteDeck is running on 32bit, 64bit, or another architecture.
Kernel Type & Version: Shorthands for the type of system, like 'winnt' for Windows and 'darwin' for MacOS.
Product Name & Version: Longer name for the type of system, like 'Windows 11 Version 2009' or 'macOS Monterey (12.6).'
MuteDeck Version: The version of MuteDeck that's running.
MuteDeck Licensed: Whether MuteDeck is licensed (but not the license itself.)
# Events
Events is a list of button presses that lets us know which buttons are being used the most. Per event, this is what is collected and sent to mutedeck.com:
Event Date
Event Type: This can be "mute", "video", "share", "record", or "leave."
Context: In which context the event type is run. This can be "system," "zoom," "webex," or software that will be supported in the future.
Via API: Tells us whether the event was triggered via MuteDeck's API, which means it's run via Stream Deck, Loupedeck, or another form of remote API. This can be "yes" or "no."
# Why does it take a second to update?
MuteDeck is on a continuous loop to detect and find the status of Zoom. To balance the resources the software needs (CPU usage) and performance, we've put this loop on a 0.5-second delay. So, every second the call status gets updated, which can seem like a delay when you're paying attention to the buttons. We've found that this design is the sweet spot and is the best balance.
This may change in the future, but we want to be absolutely sure that the software does not interfere with your computer's resources and has a very small footprint.
Starting version 1.0, you can configure the time between updates. All the way down to 0,5 second. Combined with the instant updates to the Stream Deck plugin, makes it feel like it's real time. 😊