# Licensing
# How does the licensing work?
The mute feature is free always; for the additional features to control your video, sharing, and a quick meeting exit, you need a license. When you first install MuteDeck, you get a 14-day trial of all features.
The MuteDeck software is licensed per computer. For example, if you install MuteDeck on two computers (work and personal), you need two licenses. If you install it on three computers, you need three licenses.
You can purchase a license from mutedeck.com (opens new window). After the order is completed, you'll receive a license code via email. Sometimes email can be delayed, please allow 15 minutes for delivery.
The license code can be entered into the MuteDeck software via the settings: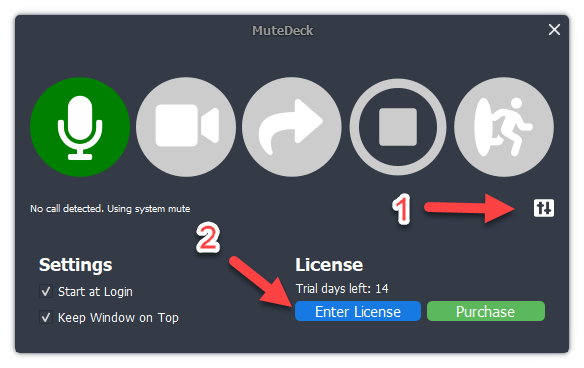 If you'd like to purchase multiple licenses for your team, please contact us, we have some team-friendly rates available.
# Can I buy this for my team?
Yes, we have license plans available for bulk purchases. Please contact us to get the ball rolling, thanks!
# License Recovery
When you purchase a MuteDeck license, the email confirmation contains your license key. If you lose that email, you also automatically get an account on mutedeck.com (opens new window) containing your license key. To get access to your account, reset your password (opens new window) first.
After you've logged in, click on the Your MuteDeck (opens new window) link in the navigation menu on the top right. You'll see your license(s) there with details about the purchase.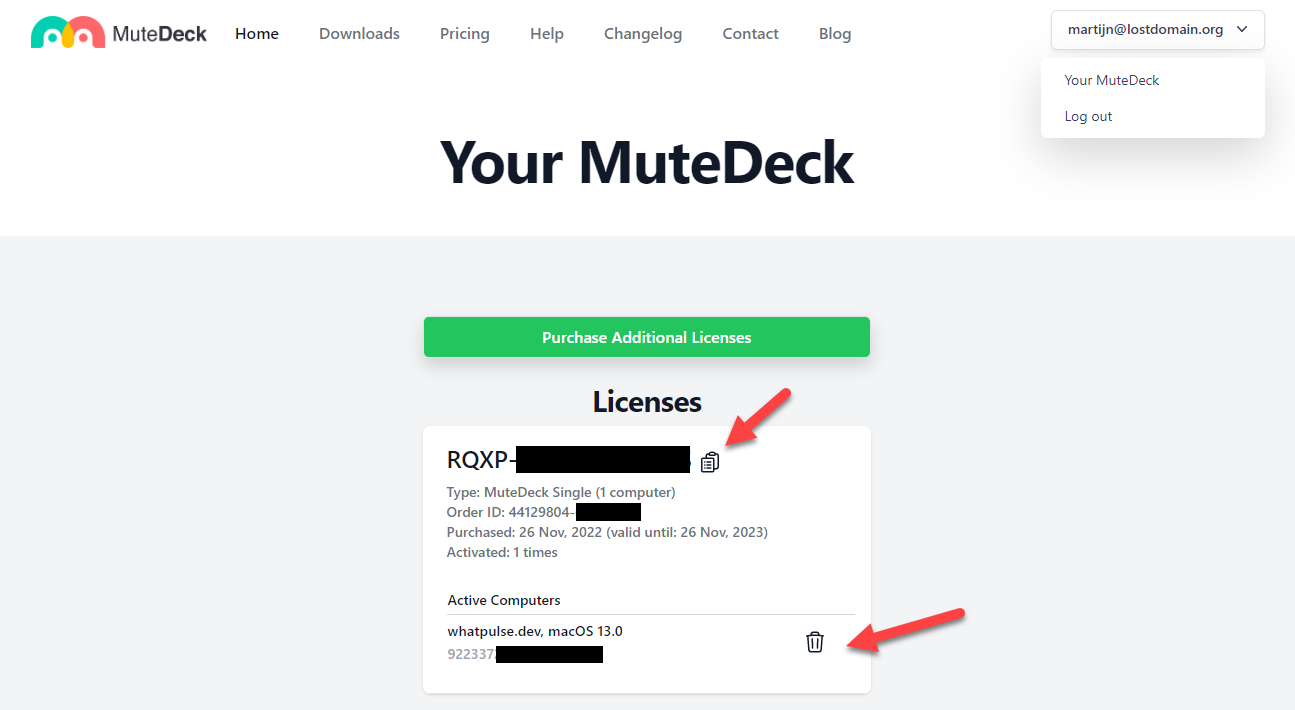 # Deactivating or Moving a License
When you've activated a MuteDeck license on one computer, it can be moved to another computer. There are two ways:
Deactivate the license via the MuteDeck software.

Open the settings (sliders icon).
Click the "Deactivate License" button.

Deactivate the license via MuteDeck.com

(opens new window)

, when you do not have access to the old computer.

Log into MuteDeck.com

(opens new window)

and go to Your MuteDeck.
Click the trashcan icon next to the computer you want to deactivate (see the screenshot above).